Every now and then, a game changer comes along….
…
Fashion and beauty go hand in hand. And with NYFW just weeks away, we can all admit we're just as excited to see what makeup artists will dream up to top off the sure-to-stun collections as they set the tone for fashion magic. Working closely with designers, it will be determined whether fresh faces will dominate- or a single feature. Dark lips? Neon lined eyes? Pink pouts? Its all one giant puzzle where the final image has yet to be determined.
But sometimes, just sometimes, it can be as simple as one tiny little revolutionary product. Something totally new that seemed so (up until now) impossible. Convenient AND chic. Glam AND foolproof. Liquid AND matte…. wait, what?
Do I have your attention now?
Good. Because what we're talking about could be considered the unicorn of lipsticks. The hydrating, pigment packing, couldn't smudge it if you tried prowess of glosses. We're talking about… LIQUID MATTE.
I first caught wind of this fairy tale product back in December while in MAC. I was on the hunt for a vibrant purple, perfect for those days when all you need is a dramatic lip. I fell in love with Heroine instantly. Edgy, boldly bright and just a little dangerous- ironically, just how I like my men.
I bought it in both the matte lipstick, and the lipglass. Cause I'm also a girl that likes options. And THAT was when my MAC girl changed my life with one little sentence- "You know, in January, we're releasing our new matte lipstick… it will be like having both of these products in one".
Sign. Me. Up.
But fortunately, I didn't have to wait till January. I hopped over to Sephora next (again, options!) and that's when I saw it. Or them, rather. 12 beautiful shades in a glorious row of color, pigments bursting. I reached immediately for a beautiful lilac shade. I easily justified that I needed it, as it had more pink than Heroine.
And its been love ever since. My own personal game changer.
Why, you ask? Well, let me just try to explain the significant differences that has left me a lifelong fan.
Lets start with the applicator. Most gloss tubes have a soft, sponge-like end. Which is perfect for that casual smudgy effect. But when you're dealing with something more permanent, application is crucial. And the tip on these babies is like a built in lip pencil. Its firm, and lets you draw the finest line around your lips, perfectly eliminating any possibility of the color bleeding (red lipstick is famous for this). Then, after lining, you continue to use the applicator as normal to fill in your entire pout. But again, the firmness makes the final process SO much more precise. More dramatic. Trust me, no matter what color you choose, your lips will scream "EXPERT".
Okay, so now you've got it on, and you're looking fierce. Like always. So again, whats the big deal?
The fact the you will still look just as fierce, even after your first (or fourth) latte. Also worth noting- when you first apply it, your lips will literally feel like silk. And will continue to do so, even after the product has dried- which takes a minute or two. Now usually, anything that needs to dry means it will have your lips screaming for moisture by noon. Again, not so with this. My lips can go practically all day with nothing more than a minor touch-up. And I mean literally one minor touch-up. Not 3. Not wipe it all off and totally reapply it from scratch. Which means you can also stop worrying that you have lipstick on your teeth all day. Or why people never tell you when you actually do?? And just to clarify, its Girl Code to never let a friend leave a bathroom with toilet paper on her shoes, or lipstick on her teeth.
End. Of. Story.
But lastly, lets not forget the most important reason. The reason you're even wearing it in the first place. The COLOR. Both MAC and Sephora managed to pack so much pigment into these tubes, its hard not to think about the staining disasters that could result. But they wont. Well, after the first minute, of course. And trust me, as a single girl, I'll happily confess- I drink a lot of lattes, and I kiss a lot of boys. So trust me when I say I've done my research for you on this.  You're welcome!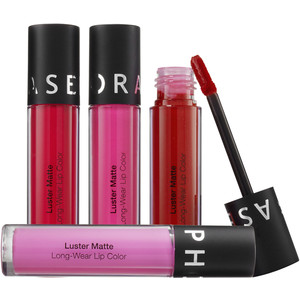 And while Sephora and MAC are not the only ones to carry this new genre of lipstick, they are my two personal favorites for this particular product.  Soon to be a cult classic, nestled right along side NARS blush in Orgasm, the only real question remains is which shade will hold the most power in the long run.
Because just like the killer pout you so perfectly applied, this formula is here to stay.
Now go.  Head on down to MAC.  Or Sephora.  And enjoy your latte, lipstick free.  And take the poor girl with lipstick on her teeth with you.